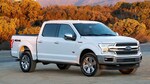 Ford has been making the popular F-Series since 1948, and would go on to introduce the F-150 in 1975. Since then, the Ford F-150 has evolved over nine generations and has become America's favorite vehicle, proving its popularity by being the best-selling model for 46 consecutive years. With so many models and options to choose from, buying a
used Ford F-150
requires careful consideration of many factors, including having the proper background knowledge about the vehicle.
The F-150 is available in multiple cab and bed configurations, but not all configurations are available on models. For example, the largest SuperCrew cab cannot be combined with the longest 8-foot bed. A wide range of trim levels is also available, ranging from utilitarian to luxurious. Knowing how much passenger and cargo capacity you will need can help narrow down the F-150 that best suits your lifestyle and needs.
Used Ford F-150 Buying Checklist
While Ford had been manufacturing the F-Series of trucks since the 1950s, it wouldn't be until 1975 when the F-150 model would make its way to showroom floors. The truck would evolve and improve over the decades, including the switch to a boxed frame that improved handling and comfort, and eventually, the move to make the body out of strong yet lightweight aluminum.
Ford F-150 Generations
The Ford F-150 first hit the market in the mid-1970s and has sold tens of millions of trucks since its introduction. Over the generations, Ford has added more luxurious trim levels to the F-150 lineup, such as the King Ranch and Platinum. The most upscale trims are reserved for Ford's largest SuperCrew cab, which has copious legroom in the rear seats. In fact, the SuperCrew has more than 4 additional inches of legroom when compared to the Ford Explorer SUV.
First-generation F-150 – The first F-150 was available with 6- and 8-cylinder engine options. The truck was known for its boxy design and rectangular headlights, kicking off the F-150's reign as one of the most popular vehicles ever sold. Its unique design would carry on for over 20-years until it was replaced by a much rounder egg-shaped front end.
Second-generation F-150 – The second-generation F-150 was introduced in 1980 with the same wheelbase and cargo capacity, but it was lighter than the previous generation. It had both an improved ride and options for SuperCab models to offer more passenger space. Fuel injection was added to the 5.0L V8 in the mid-1980s to boost power output and efficiency.
Third-generation F-150 – The third-generation F-150, introduced in 1987, saw more rounded features on the truck's body and a standard 4-speed manual transmission. The exterior received updates to improve the truck's aerodynamics, resulting in a quieter cabin and adding marginal gains to efficiency.
Fourth-generation F-150 – The 1992 Ford F-150 kicked off the fourth generation of the truck and possessed modern styling. The front end would become rounder, and the hood more sloped to improve aerodynamics further. Other notable changes included standard driver airbag in 1994 and the end of the 4.9-liter inline-6 engine option for the F-150.
Fifth-generation F-150 – The fifth-generation F-150, starting in 1997, saw a dramatic redesign to the truck's exterior to fall in line with other Ford vehicles. Significant suspension changes were made, with the F-150 now using independent front suspension instead of Twin I-Beam suspension. A 4.2-liter V6 replaced the inline-6, and two V8 engine options were newly available. In 1999, Ford would introduce the SVT Lightning, a performance street truck based on the F-150 powered by a supercharged 5.4L V8 with 360 horsepower and 440 lb-ft of torque. The Lightning would receive a bump in power output in 2001, bringing the engine's ratings to 360 horsepower/450 lb-ft of torque.
In addition, 2001 would be the year Ford introduced the SuperCrew cab, the new largest cab option available with four full-size doors.
Sixth-generation F-150 – The sixth-generation F-150, which began production in 2004, brought back more squared-off design cues while keeping the option of the SuperCrew cab. The larger cab would help Ford gain even more popularity as it offered comparable room to SUVs. No longer was the pickup truck a utility-first vehicle emphasizing cargo capacity over payload capacity; it was a family-friendly vehicle as well.
Seventh-generation F-150 – In 2009, the seventh-generation F-150 saw another complete redesign, including a fully boxed frame and more luxury features. A new EcoBoost turbo V6 engine was available for the first time and delivered more horsepower and torque than all engines except the large 6.2-liter V8, which had almost 50 more horsepower. The 3.5-liter V6 EcoBoost engine provided comparable power to a naturally aspirated V8 while delivering nearly 50% better fuel economy. Ford would also introduce their off-road-oriented truck, the Raptor, based on Baja racing trucks.
Eighth-generation F-150 – The eighth-generation F-150, arriving for 2015, saw another sea change for America's best-selling vehicle. With this model, Ford implemented heavy use of aluminum on the body, which led to significant weight savings of up to 700 pounds, depending on the bed and cab configuration. A new 10-speed automatic transmission was introduced to ensure the F-150 would stay at the forefront of automotive technology.
Ninth-generation F-150 – A hybrid and electric version of the Ford F-150 would be introduced in 2021, alongside traditional gasoline counterparts. The hybrid version produces the most horsepower and torque in the lineup while also boosting fuel economy. The Lightning marks another milestone, as the first fully electric F-150, with production beginning in 2022. The Raptor off-road model, meanwhile, would undergo significant changes in the suspension and engine. Active dampers from Fox suspension made the Raptor even more capable over rough terrain, while the swap from a V8 to a turbo V6  would raise power output and widen the power curve.
| | |
| --- | --- |
| Generation | Production |
| 1st Gen | 1975-1979 |
| 2nd Gen | 1980-1986 |
| 3rd Gen | 1987-1991 |
| 4th Gen | 1992-1996 |
| 5th Gen | 1997-2003 |
| 6th Gen | 2004-2008 |
| 7th Gen | 2009-2014 |
| 8th Gen | 2015-2020 |
| 9th Gen | 2021-TBD |
Ford F-150 Powertrain
The F-150 has come equipped with over a dozen engines that varied in performance over the years. Early engine designs utilized large displacement and low-compression compared to the newer EcoBoost variants with their higher compression and turbochargers. Over the years, F-150 trucks have been available with gasoline, diesel, hybrid, or, now, all-electric powertrains.
Gasoline – Gas engines are the most popular powertrains in the Ford F-150 and the best choice for a wide range of drivers. Gasoline is readily available and has been powering most internal combustion engines for over one hundred years.
Diesel – Diesel has been around for roughly as long as gasoline; however, it's not as common in light-duty pickup trucks. The benefits of diesel are that it is more energy-dense than gas, and the engine's product has significantly more torque, making them well-suited to carrying heavy loads. A diesel engine was offered most recently in the F-150 from the 2018 to 2021 model years.
Hybrid – Hybrid cars have been popular for decades, but hybrid trucks are only just starting to gain popularity. Hybrids combine a gasoline engine and battery-fed electric motor to enhance the truck's fuel economy. Another benefit of a hybrid is its regenerative braking, which returns charge back to the battery pack when the brakes are applied.
Electric – Electric trucks are the latest development from Ford and represent the newest F-150 powertrain. Electric vehicles are gaining popularity due to their reduced operation cost and large amounts of instantaneous torque. In addition to performance benefits, EVs are less destructive to the environment than traditional gas or diesel-powered trucks. The 2022 Ford F-150 Lightning marks the first all-electric F-150.
| | | |
| --- | --- | --- |
| Displacement | Horsepower | Torque(lbs) |
| 4.2L V6 | 115 – 210 | 206 – 260 |
| 4.9L V8 | 117 – 145 | 227 – 265 |
| 4.9L I6 | 117 – 150 | 223 – 260 |
| 5.0L V8 | 133 – 400 | 233 – 410 |
| 5.8L V8 | 136 – 210 | 262 – 315 |
| 4.6L V8 | 220 – 292 | 280 – 320 |
| 5.4L V8 | 235 – 310 | 330 – 365 |
| 3.0L V6 Diesel | 250 | 440 |
| 3.5L V6 | 282 | 253 |
| 3.3L V6 | 290 | 265 |
| 3.7L turbo V6 | 302 | 278 |
| 2.7L turbo V6 | 325 | 375 – 400 |
| 5.4L supercharged V8 | 340 – 380 | 425 – 450 |
| 3.5L turbo V6 | 365 – 450 | 420 – 510 |
| 6.2L V8 | 411 | 434 |
| 3.5L V6 Hybrid | 430 | 570 |
Ford F-150 Suspension
The early generations of F-150 trucks utilized a Twin I-Beam front suspension and a live axle with leaf springs for the rear suspension. Twenty-two years after the F-150 was introduced, it would undergo significant updates to utilize an independent front suspension that improved handling.
All core model F-150 trucks utilize a live rear axle with leaf springs. Leaf springs are a tried and true suspension system that remains popular on trucks for their ability to handle massive vertical loads easily. The long length and two mounting points of leaf springs help distribute the weight over a larger area and prevent overloading.
However, specialty model trucks like the F-150 Raptor and F-150 Lightning use coil springs. The first two generations of Raptor ride on leaf springs, while the third generation has coil springs. The Raptor doesn't have just any old coil spring, though; it has one of the most advanced shocks with active dampening from Fox suspension.
The Ford Lightning is the only truck in Ford's lineup to use independent rear suspension (IRS). Since electric motors can be placed at the rear wheels, there is no longer a need for a live axle, which previously was the limitation for implementing IRS. While IRS handles better, it's not as well-suited for heavy towing and commercial vehicles.
Trucks that frequently tow or carry heavy payloads will see accelerated wear in the rear suspension components. The wear can be further compounded by hauling on uneven or unpaved roads, which causes the weight to multiply on impacts.
Tire & Tread Wear
Over the decades, the Ford F-150 has been equipped with a wide range of wheels from as small as 15-inches to as large as 22-inches. Larger wheels and tires may be beneficial until a certain size; however, they will cost more to replace. In addition to the higher price, large-diameter tires have smaller sidewalls, which aren't as effective at absorbing bumps in the road and are more susceptible to pothole damage. Here's an example:
Cost to replace 15-inch Tires: Michelin Defender LTX M/S – 235/75-15 tires cost $169 per tire and $676 per set of tires.
Cost to Replace 22-Inch Tires: Michelin Defender LTX M/S – 275/50-22 tires cost $283 per tire and $1,132 per set of tires.
Check for even wear and how much tread depth is remaining when inspecting a used truck's tires. An uneven wear pattern between tires can indicate suspension or frame damage. If the rear tires are wearing faster than the front tires, it may be due to the F-150 being a rear-wheel drive (RWD) instead of a 4-wheel drive (4WD) model or frequent heavy load hauling.
Body & Frame Condition
The best conditions to inspect a vehicle's paint are when it's clean and in direct lighting. The sun or high-power lights will provide the light necessary to spot paint defects: scratches, swirl marks, and etchings. Paint defects that can be felt with your fingernail will be permanent, and their appearance can only be minimized by performing a paint correction.
If a drop-in bed liner is equipped in the bed of the truck, be sure to inspect underneath it carefully for corrosion. Dirt and moisture can build up under the bed liner over time and cause significant issues if left unattended. Spray-in bed liners do not suffer from the same problem and are preferable.
A fully boxed frame was introduced in 2004 to improve the strength and rigidity of the Ford F-150. Previous generations of the F-150 used a C channel frame that had more flex than the new boxed frame.
In 2015 the Ford F-150 started using aluminum body panels instead of steel body panels, resulting in a massive weight savings of some 700 pounds. The downside to an aluminum body is how much harder and costlier it is to repair if an accident ever occurs.
Checking the body gaps for misalignment can help determine if a vehicle has been in an accident or suffered damage from towing or carrying too much weight. While visual inspections can determine if something is majorly wrong with a vehicle's body and frame, they won't suffice for identifying parts slightly out of specification. If given the opportunity to perform a pre-purchase inspection before buying a used vehicle, it's wise to have one performed. An inspection could save you from purchasing a vehicle that needs more repairs and maintenance than anticipated.
Ford-Certified F-150
The F-150 is now in its ninth generation, and the Ford F-Series trucks are in their 14th generation. If you're looking to restore a classic Ford truck, the only option is to purchase used. However, if you're in the market for a late-model truck, buying a certified pre-owned (CPO) vehicle is an option. Ford created the Ford Blue Advantage program to help buyers quickly find the certified Ford — including the F-150 — they are trying to locate. FBA vehicles are available in Blue and Gold certification, the latter being the higher tier.
Ford Gold Certified vehicles must pass a 172-point vehicle inspection. In addition to a thorough pre-purchase inspection, Gold Certified vehicles feature a 12-month/12,000-mile comprehensive limited warranty covering an extensive array of components if any issues arise.
link