By Gabe Rodriguez Morrison
Tesla just introduced two new paint colors, Quicksilver and Midnight Cherry Red. Giga Berlin specifically built a unique paint shop to offer these new colors. Elon has previously called Giga Berlin's new paint shop the "most advanced," offering "more layers and stunning colors that subtly change with curvature."
Unfortunately, these stunning new colors are exclusive to the Giga Berlin paint lines meaning these new colors are only available in European and Middle Eastern countries. Elon explains why these colors are only available at the Giga berlin paint shop:
"Only Giga Berlin can make these colors, as paint shop was specially built to apply many fine layers of paint, giving it complexity not otherwise possible."
When @TeslaownersSV asked if a new color could be added in the US as well, Elon simply replied "Yes".
Based on previous leaks in Tesla app updates, Tesla fans were expecting three new colors to be available in the future: Crimson Red, Mercury Silver Metallic and Abyss Blue.
It's not clear whether Tesla still plans to offer these exact colors, but based on their similarities to these two new offerings, it appears that Midnight Cherry Red has replaced the Deep Crimson color Tesla was considering and the new silver color may have had a name change or changed slightly. However, it's not clear whether Tesla still plans to offer Abyss Blue at some point in the future.
The new colors are more expensive than the previously offered gray (Midnight Silver Metallic) which was €1,600 and red multi-coat which was €2,000. Now, Quicksilver is €3,000 and Midnight Cherry Red is available for €3,200. The Euro is currently valued at a similar rate to the US dollar, so the prices in USD would be comparable.
Abyss Blue, which we have yet to hear more details about, could be the mysterious new color that Elon said would be offered in the US. If Abyss Blue becomes available, it'll likely replace Tesla's current blue shade, Deep Blue Metallic.
These new colors are only currently available on the Model Y, but that is likely to change as well as Tesla has traditionally shared their paint colors across all of its models.
Although these new colors are currently exclusive to the Berlin paint shop, Tesla rarely offers features only in a given region. By offering the same parts and features across all of its factories Tesla reduces costs through scale. Upgrading paint shops would come at a significant cost, so it's not surprising that Tesla isn't rushing to do this and may decide to couple it with other changes down the line.
I'd expect Tesla to start offering these new colors in other regions in the future, especially at Giga Texas which was built after their factory in Berlin.
What do you think?
What color would you like to see offered next? What do you think about the new Quicksilver and Midnight Cherry Red colors and their increased price? Let us know in our forum.
By Gabe Rodriguez Morrison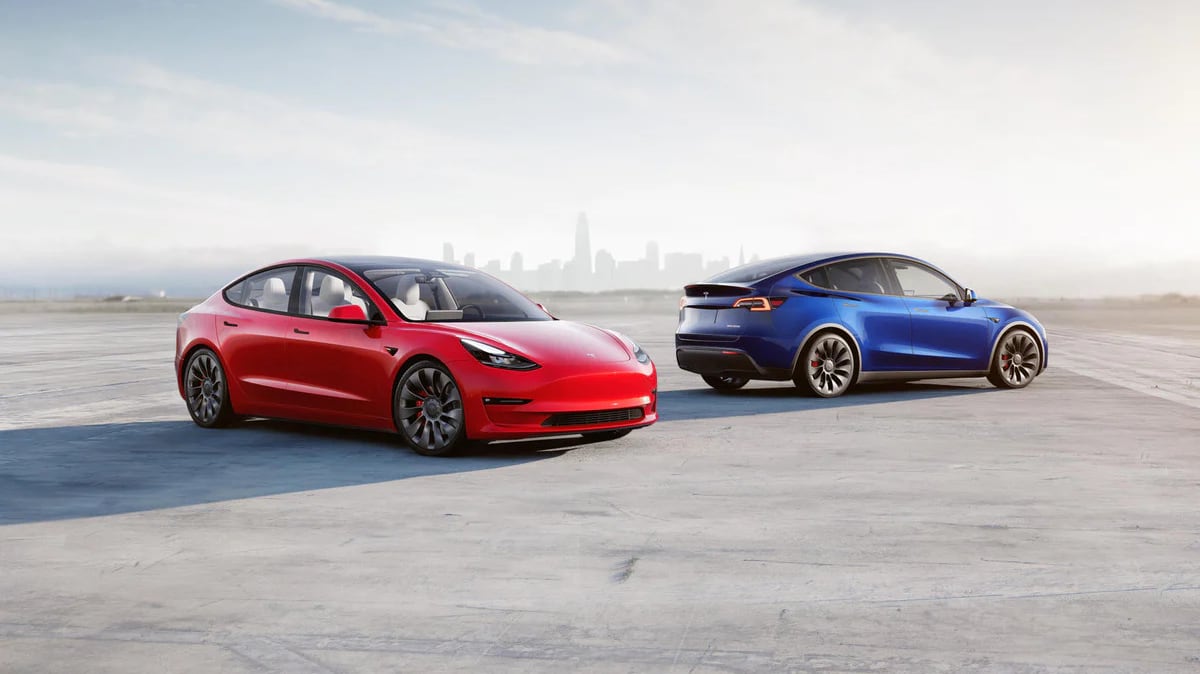 An EV reliability survey out of China listed the Tesla Model Y and Model 3 as two of the most reliable electric vehicles on the Chinese market.
The survey, conducted by 12365Auto, covered about 40 different EV models. Vehicles were ranked based on the number of buyer complaints per 10,000 units. On average, there were 19.2 complaints per 10,000 EVs in China.
According to the data posted by @Moneyball_R on Twitter, the Model Y scored the lowest number of complaints in the survey with only 2.22 complaints, while the Model 3 logged 2.7 complaints per 10,000 units.
Besides the Tesla Model Y and Model 3, the Geely Geometry E (2.3), FAW Hongqi E-QM5 (2.7) and Wuling Hongguang Mini EV (2.9) were also among the top 5 most reliable EVs in China.
According to the survey, the most unreliable EV in China is the Lixiang ONE with 41.8 complaints per 10,000 units. In second place is the BYD Han with 38.5 complaints. In third place is Another BYD model, the Dolphin with 37.8 complaints.
While Tesla has faced criticism for poor build quality in the United States, they are recognized for excellent build quality in China. Tesla is ahead of the competition in China according to the results of this reliability survey.
Notably, the Model Y topped the list since it is the best-selling SUV in China. According to EURO NCAP, the Model Y is also the safest vehicle ever tested.
In other Model Y news, Giga Berlin has started manufacturing the electric SUV in two new colors, with a potential third color coming to the US.
Q3 compliants per 10k units soldpic.twitter.com/HFMYxfsmJh

— Moneyball (@MoneybaII_R) October 21, 2022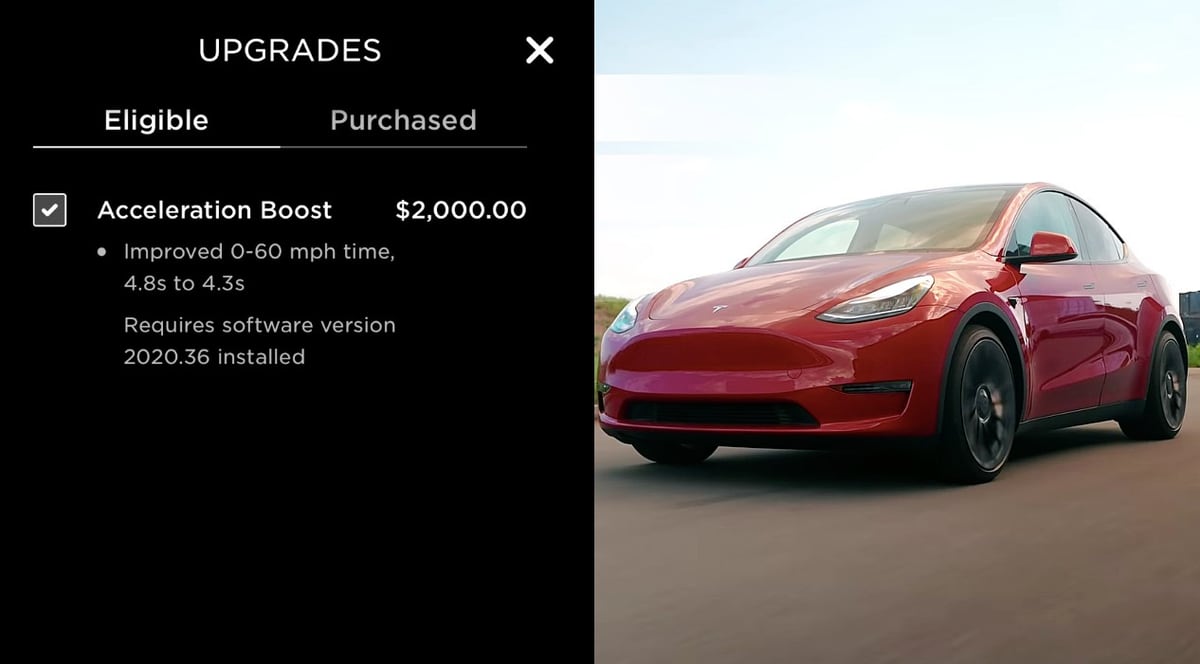 If you haven't driven a Tesla, you might not be familiar with the rollercoaster-like feeling of going from 0 to 60 mph. The Long Range Model 3, for example, can accomplish this in 4.2 seconds as-is. All Teslas pull you off the line almost instantly and are already quicker than most internal combustion engine vehicles.
What if, though, you could increase the speed of your Tesla even more? We break down what Tesla's Acceleration Boost is, and whether it's worth the price tag.
What Does Tesla's Acceleration Boost Do?
If you drive a Long Range Model 3 or Model Y, you may be able to purchase the 'Acceleration Boost' upgrade that increases your vehicle's acceleration and lowers your 0-60 time.
The Tesla Model 3 Long Range already has an acceleration from 0 to 60 mph time of about 4.2 seconds. With Acceleration Boost, Tesla claims that time is reduced to 3.7 seconds.
The Tesla Model Y Acceleration Boost shaves off half a second on the vehicle's 0 to 60 mph time, dropping its run from 4.8 seconds down to 4.3 seconds.
It's worth highlighting that these are the only two vehicles that are eligible to purchase this upgrade. When Tesla first started delivering the new Model Ys with the 4680 cells, owners of the Standard version were able to upgrade, but the company has since removed this option.
Acceleration Boost vs Performance Times
While Acceleration Boost will give you a very noticeable boost in all performance aspects, it will not turn your vehicle into a Performance model.
Here are the 0 to 60 mph time comparisons between the Long Range model, Long Range with Acceleration Boost and Performance models.
| | | | |
| --- | --- | --- | --- |
| Model | Long Range | Acceleration Boost | Performance |
| Model 3 | 4.2 seconds | 3.7 seconds | 3.1 seconds |
| Model Y | 4.8 seconds | 4.3 seconds | 3.5 seconds |
As you can see from the table above, a Long Range model with the Acceleration Boost upgrade falls roughly between a Performance model and the Long Range model in terms of acceleration.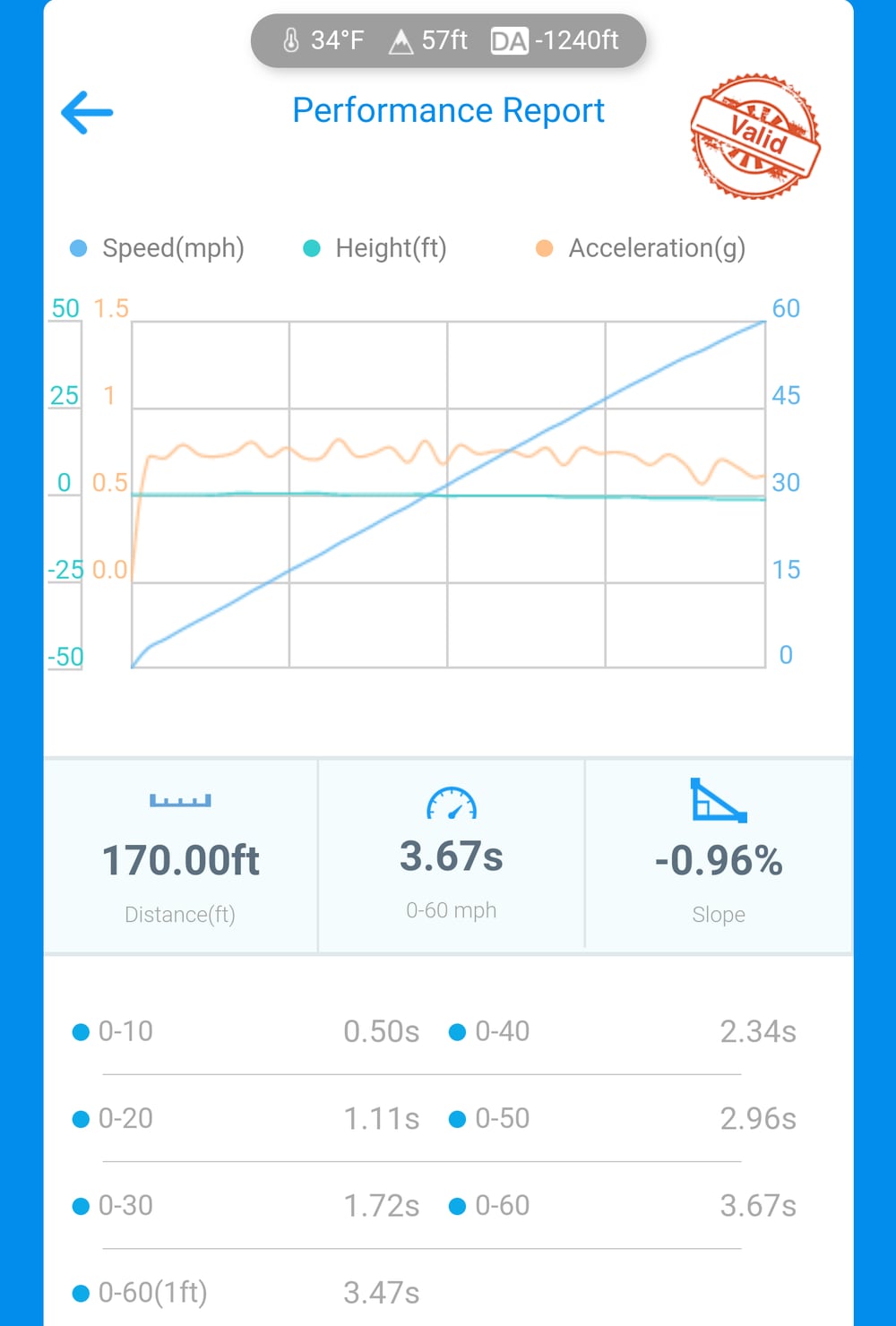 The graph above was created by an independent owner and displays the vehicle's performance from 0 to 10, 0 to 20, 0 to 30 and 0 to 60 mph after purchasing Tesla's Acceleration Boost. From the graph we can see how the vehicle's acceleration rate remains fairly constant from 0 all the way to 60 mph.
Does Acceleration Boost Add Track Mode?
Track Mode is a feature that is exclusive to Performance models. It allows you to adjust how your vehicle handles and performs. For example, it allows you to adjust features that may be useful on a track, such as adjusting the motor bias from front to rear, reducing traction control or adjusting vehicle cooling.
Although vehicles with Acceleration Boost have better performance than their Long Range counterparts, they do not include Tesla's Track Mode feature.
Is Acceleration Boost Worth It?
While the Acceleration Boost update can be a costly one at $2,000, it unquestionably gives drivers acceleration capabilities that are comparable to those of the Performance model.
According to Tesla drivers who have purchased the upgrade, the actual acceleration boost is quite notable and affects all speeds, not just 0-60 mph.
On the other hand, your Model 3 or Model Y's quick acceleration will result in quicker tire wear. Additionally, it can result in decreased efficiency, which results in higher ownership costs. However, this does depend on the individual and how often they take advantage of the speed boost.
Performance models are usually quite a bit more expensive than the Long Range models, so in terms of value, the Acceleration Boost upgrade is a good deal that will increase the vehicle's value. If you own your vehicle, you'll also likely recoup some of the upgrade's cost if/when you decide to sell the car or trade it in at some point in the future.
Cost and How to Purchase
The price for Acceleration Boost hovers around USD 2,000, depending on your region and local tax rate. Owners can conveniently purchase the upgrade directly from their Tesla app, or through Tesla's website.
To purchase or see if the upgrade is available for your vehicle, open the Tesla app and navigate to the Upgrades section.
Then tap on Software Upgrades and if the feature is available for your Tesla you will see Acceleration Boost listed.
If you'd like to purchase the upgrade, make sure your vehicle is in Park and connected to Wi-Fi or has a strong cellular connection so that the vehicle can download an updated configuration.
You can add the Acceleration Boost upgrade to your cart and follow the payment instructions. 
The upgrade is a one-time payment that can be made with a credit card, debit card, or Apple Pay. However, it is not possible to add the cost of the upgrade to your lease or vehicle loan payments.
Once the payment has been processed, the update should only take a few minutes to show up in your vehicle.
How to Check if Your Vehicle Has Acceleration Boost
Once you've made the purchase, you can confirm that you have received the upgrade by tapping on Controls (car icon) and navigating to Software. Below your vehicle's image, you'll see a list of features, including possible features like Full Self-Driving, Premium Connectivity and more.
If your car has received the upgrade, you should now see Acceleration Boost listed.
In addition to the upgrade appearing under the Software tab, you can also navigate to the Pedals & Steering section and your acceleration choices will now be 'Chill' and 'Sport,' instead of the previous options of 'Chill' and 'Standard.'
Your vehicle should now be noticeably faster.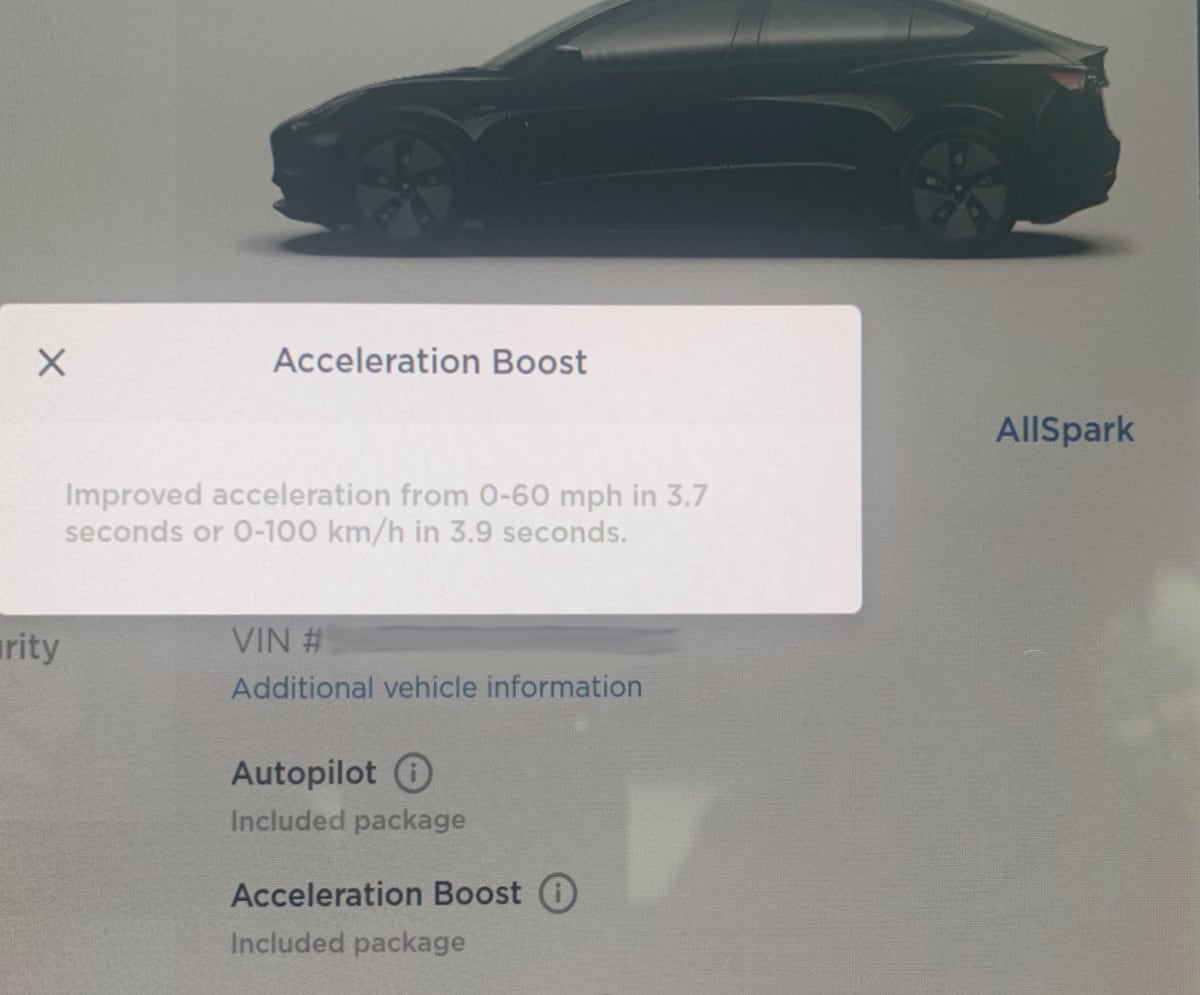 Is there an Acceleration Boost Trial?
Although not formally promoted as a trial period, Tesla does provide you the chance to get a refund for your original purchase within 48 hours of purchase, if you change your mind or the upgrade didn't meet your expectations.
It is not possible, however, to receive another refund if you re-purchase the Acceleration Boost upgrade at a later time. Any future purchases for Acceleration Boost will be final.
The Acceleration Boost upgrade might be worthwhile for you if you frequently travel on long, open highways or appreciate experiencing the acceleration surge when you depress the pedal. But if you use your Tesla for routine activities like grocery shopping or being stuck in traffic on the way to and from work, it might not be the best bang for your buck.
However, if you initially had your eye on the Performance model and ultimately decided on the Long Range version, Acceleration Boost is a great way to get closer to the performance of the higher-end trim.

link