Vivid, fashionable streetwear is designer and influencer Sean Wotherspoon's trademark look. The 32-year old has taken that passion and style, and translated into into a personalized Porsche Taycan 4 Cross Turismo that is unlike any other car on the planet.
The luxury automaker first showed the exterior of the art car at South by Southwest in Texas earlier this year, and displayed the interior for the first time last week.
"From Janis Joplin's psychedelic 356 in the 1960s to the 911 RSR from 2019 designed by Richard Philips – the list of iconic art cars from Porsche is already long," says Robert Ader, Chief Marketing Officer (CMO) at Porsche. "Art cars suit Porsche very well. Creative design work with artists inspires us and motivates us to keep developing the brand without changing it fundamentally."
This isn't Wotherspoon's first commercial collaboration. He's previously worked with Nike, Asics and Adidas.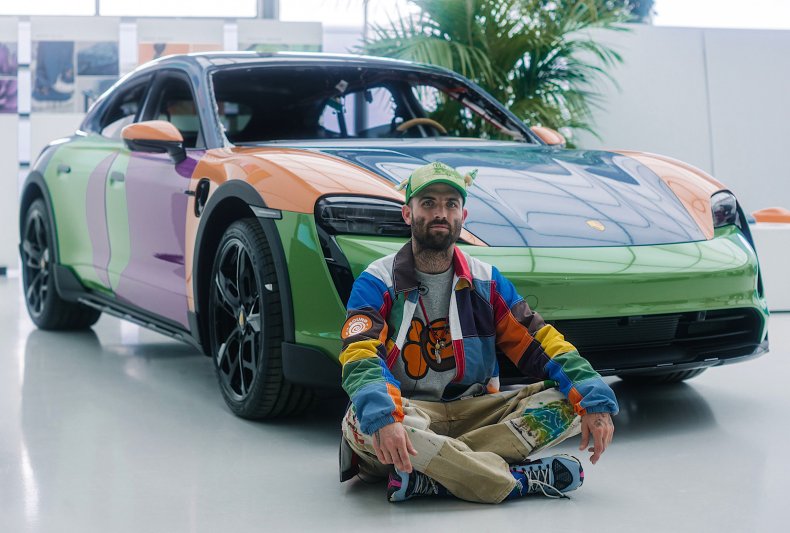 Wotherspoon worked virtually with the design team at Porsche to create the car. Sometimes colors on the screen aren't what they appear in person. To ensure that the colors were exactly what Wotherspoon wanted, he sent the corresponding Pantone reference codes to Porsche.
The colors were created then tested on "paint frogs" so that Wotherspoon could see them in person, examine them in a variety of lighting conditions, before giving final approval.
Wotherspoon named the custom paint colors after members of his family. Color blocking from the exterior translates to the cabin, which too wears Nash Blue, Sean Peach, Loretta Purple and Ashley Green hues.
The influencer is a staunch vegan and was passionate about creating an interior that was leather-free, an option other Taycan customers can choose. The steering wheel, dashboard and center console feature cork. Atacama Beige corduroy lines the roof, seat centers and sun visors.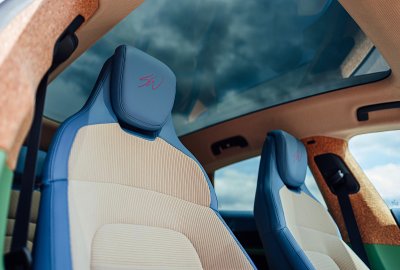 Finishing touches were put on the car thanks to Porsche Exclusive Manufaktur, the company's customization wing. The car wears 21-inch Cross Turismo Design wheels and rear wiper cover painted in high-gloss black. The light strip features "Porsche" lettering in Black.
Custom paint colors and paint sampling services aren't reserved for this art car. It can be applied to vehicles that customers order through the Manufaktur division.
Porsche plans to allow four inside colors, as see in Wotherspoon's car, as an option in the future.
link