PE-backed Painters Supply continues expansion with 5-location jobber Nyquist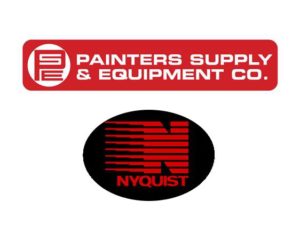 PE-backed Painters Supply continues expansion with 5-location jobber Nyquist
By John Huetter
on
Announcements | Business Practices | Market Trends | Repair Operations

Painters Supply and Equipment last week announced it had purchased the five-location distributor Nyquist.
The deal brings the auto body industry jobber to 50 locations and introduces it to four more states: Maryland, Delaware, Virginia and North Carolina.
It's the latest expansion for a jobber that has more than doubled in size since its summer 2017 acquisition by the PNC Riverarch Capital private equity firm and another symbol of the paint, body and equipment supply industry's consolidation. Given that sector's smaller footprint, any M&A activity within it might carry greater significance for the regional and perhaps even national collision repair industry than one might expect.
"We are immediately pursuing multiple add-on acquisition targets and have a healthy appetite for additional opportunities," PNC Riverarch principal Andrew Wiechkoske said in 2017.
He wasn't kidding. Back then, PSE had 21 locations throughout Michigan, Indiana and Ohio and more than 4,000 customers.
Following the deal for Baltimore, Md.-based Nyquist, PSE said it had 50 branches and two distribution centers spanning Georgia, Illinois, Indiana, Maryland, Michigan, Missouri, Ohio, Pennsylvania and Virginia. It serves more than 8,000 customers.
"We are excited to welcome Nyquist to our growing PSE family of businesses," PSE CEO Patrick Mayette said in a statement Aug. 13. "The team at Nyquist has done an outstanding job growing the business in the markets they serve and we look forward to partnering with them to strengthen the business further to ensure long-term growth."
Painter Supply and Equipment is a PPG Platinum Distributor,  Nyquist offers both PPG and AkzoNobel; in fact, it says it was one of the earliest Sikkens distributors.
Nyquist started out with founders George and Anna Marie Nyquist answering a 1955 ad for PPG subsidiary Ditzler Paints. Their son George Nyquist Jr. bought the business in 1979 and opened or purchased its other four locations between 1981 and 2006.
"Painters Supply was the perfect organization to partner with" George Nyquist Jr. said in a statement. "PSE shares the same philosophy as Nyquist always has; to provide best-in-class products and service solutions to each and every customer they serve. Our team is excited to have PSE's support and resources to accelerate our growth and take our business to the next level."
More information:
"Painters Supply & Equipment Expands Into The Mid-Atlantic U.S."
Painters Supply & Equipment, Aug. 13, 2020
Featured image: The Painters Supply & Equipment and Nyquist logos are shown. (Provided by PSE and Nyquist)
Share This:
Related

link