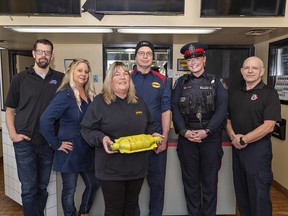 Article content
The rise in catalytic converter thefts – almost 300 over the past four years in Brantford – has resulted in a community partnership aimed at deterring thieves.
Article content
Brantford Police, Midas Brantford, APC Auto Parts Centres and Crime Stoppers Brant-Brantford are joining forces with a new theft deterrent technique.
Midas Brantford will apply a bright yellow paint and engrave the last eight digits of the Vehicle Identification Number (VIN) on the catalytic converter at no cost to private vehicle owners.
The device is part of a vehicle's exhaust system designed to reduce emissions but are made with precious metals that are lucrative to thieves.
Susan McDougall, manager of the Midas location on Fairview Drive in Brantford, saw a company magazine article about Midas outlets in Virginia that had started a similar program.
"It's a really big deal," McDougall said. "Brantford – and everywhere – has the problem. A lot (of converters) that are being stolen can be worth hundreds or even thousands of dollars each."
Article content
Thieves crawl beneath a vehicle and use a handsaw or cordless saw to remove the converter from the exhaust pipe.
Police say at times more than a dozen units are stolen in one evening.
"It's fast money for them," she said. "You come out in the morning to start your car and it sounds like a tank."
McDougall noted that most reputable scrap yards will not take a catalytic converter from anyone who walks in off the street.
"But some will still buy them," she said. "This will be a deterrent to thieves because they'll be harder to sell."
Auto recyclers who see a painted and engraved catalytic converter are likely to decline purchasing the unit and would call police, McDougall added.
APC Automotive Parts Centre is providing the paint and engraving tools.
Article content
"Innovative partnerships like this theft deterrent program are another way we can serve our community," said Robin Matthews-Osmond, corporate communications manager for Brantford Police. "Catalytic converter thefts are costly, and our goal is to help create awareness of this problem and ultimately prevent thefts."
Midas Brantford is offering a limited number of appointments to the public on Saturday, March 11 and Monday, March 13 on a first come, first serve basis. Additional appointments may be offered at a later date.
To book an appointment or find out more information contact Midas Brantford manager Susan McDougall by e-mail at [email protected]
link