If the 2022 Chevrolet Silverado High Country is your preferred holiday ride, a tonneau cover is vital for travelling in comfort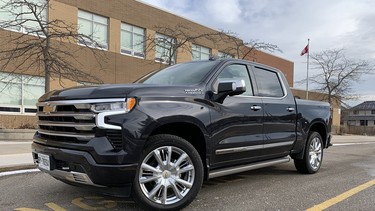 Article content
"'Twas the night before Christmas/ When all through the house/ Not a creature was stirring/ Not even a mouse." But that's because we weren't home on Christmas. We were at my in-laws' house, which meant their house was quite the opposite of peaceful, as my three kids ran around hyped up on sugar from the store-bought gingerbread train that once stood tall-ish.
Article content
But the night didn't start out crazy. Let's backtrack a couple days, beginning around December 22, the day a winter storm watch was issued for the holiday weekend in many parts of Canada.
There were a couple last-minute things I needed to do before the kids returned home from school, such as drop off Christmas presents at my cousin's house; and pick up an online order at the mall. I hopped climbed up the retractable step and hoisted myself into the 2022 Chevrolet Silverado. The power-retractable step is an additional $1,380, but so worth it, especially if you're short (like I am). There's no way I would be able to get my youngest into her car seat without that step.
Article content
The tested Silverado is the one of the highest trims, the High Country. It has a starting price of $73,748, but additional options can quickly increase that already steep price. There's a $1,080 suspension package; a $495 charge for the Dark Ash Metallic paint; and a High Country premium package that costs $2,265 and includes a power sunroof. When all is said and done, this tester totalled $81,763, including the $2,095 destination charge.
The 2022 Chevrolet Silverado High Country houses a 5.3L V8 that makes 355 horsepower and 383 lb-ft of torque. It's not the most fuel-efficient vehicle — though technically that award can only go to an EV, perhaps the 2024 Chevrolet Silverado EV. But for such a big truck, I think it fares pretty well, compared to its competition. It has a combined average fuel consumption of 12.7 L/100 km – 10.7 highway and 14.3 in the city – but what else can you really expect from something that weighs 5,000 lbs?
Article content
The drive is heavy, to say the least. I found it a bit more intimidating than the F-150, meaning it drives exactly how you'd imagine a full-size pickup to drive — heavy. The F-150 put me at a bit more ease when driving on crowded highways, whereas the Silverado just feels like it's always taking up too much space.
Article content
I made a quick stop at McDonald's to get some Happy Meals for my cousin's kids. It's a miracle I made it through the drive-thru without grazing the sides — the side mirrors were a huge help, but it was a slow process. I'm sure pickup owners are used to a vehicle this size, but I'm not. My cousin lives in a townhouse that has parallel parking for visitors, so of course, I was super-excited about that — not! There's no way I was trying to parallel-park the truck between two other cars, so I drove a bit further from her house and found a spot I could drive into.
One thing I quickly noticed is that the front camera doesn't come on or provide a warning when the Silverado is close to something, and that's quite concerning. It does come on to help with parking, but only if you go from Reverse to Drive. If you're already in Drive, there's no warning. It's not always easy to see a little kid (or anything) directly in front of the truck.
Article content
However, there's a reason for this absence of warning. Due to the microchip shortage, this tested vehicle isn't equipped with front and rear park assist — an omission which earns customers a $50 credit. GM Canada says when the chips become available, dealerships will add missing components at no extra charge. But personally, I think front and rear park assist is far too important to be left out of something this large.
First Look: 2024 Chevrolet Silverado EV

Millennial Mom's Review: 2022 Ford F-150 Tremor
Speaking of large, the centre screen is huge, which isn't necessarily a bad thing, but does mean it's a bit harder to reach things on the farthest end of the screen from the driver. It's also annoying to see fingerprints all over. The infotainment setup is simple to use and easy to navigate, but requires your attention to get to different layers; it isn't a good idea to sift through while driving. It's also a bit slow to respond, but it's not a deal-breaker.
Article content
The settings button allows for a much deeper dive into the pickup's features, such as Teen Driver mode, which allows you to track certain driving habits linked to a specific key. The climate controls are all actual buttons below the centre screen, but if you're keen on using the touchscreen, then you can opt to change it from there as well, though it is a bit more confusing.
There's a wireless charger and wireless Apple CarPlay and Android Auto. Once connected, CarPlay takes up a large portion of the screen. It leaves the right side of the screen for a couple different options that you can scroll through such as a trailer view (if connected) or a clock.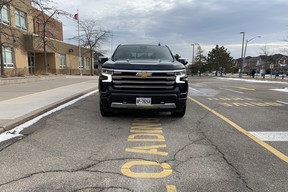 After leaving my cousin's house with a pipe-cleaner crown, I headed to the mall. I've never hated parking something more than trying to park the Silverado in the mall parking lot. Forward parking isn't simple. Backing in is usually easier, but then a portion of the front of the vehicle is hanging outside of the designated space. Taking up two spots didn't seem right either. I ended up parking the truck with its butt hanging well outside the lines. It made me uncomfortable wondering if someone would be annoyed by the horrendous thing sticking out into the lane, but what else could I do?
Article content
According to the weather app and various news outlets, the coming days would bring a mix of snow and rain, followed by a drastic drop in temperature and extremely strong winds blowing at highway speeds. Basically, don't drive unless absolutely necessary, because the roads will be icy and dangerous.
First thing's first: I sent a message to Elle asking about tonneau covers — the tester didn't come with one — and asked what I should do if the pickup gets filled with snow. Their response: shovel it, or tell the kids Olaf is coming for a drive with us! And just like that, I'm hoping it snows enough for the kids to be able to build a snowman in the bed.
Come Friday morning, December 23, there's a light dusting of snow outside my window — not nearly enough to build a snowman, but the holidays have only just started. The pickup has barely enough in its bed to make a snowball (see picture below). Friday was a lazy day due to the expected storm, and we didn't leave the house.
Article content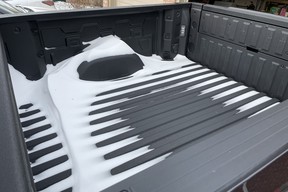 The next day, we woke up to another light dusting of snow. The pickup's bed was still mostly empty. So, we got ourselves ready to make our way to my in-laws' house in Whitby.
Much like the F-150 we tested, the Silverado's back seat has a ton of space, and I had no trouble fitting my three car seats; in fact, there was even space in between the seats. There should be heated outboard seats, but it's another one of those missing things that will be added at a later date, when microchips become available.
While piling the kids into the back seat was about as easy as it gets, the problem occurred when we realized that we needed to pack all our presents and overnight bags into the back seat, since the bed was essentially useless without a tonneau cover. If you've travelled with kids, then I'm sure you're aware that it's not a simple task — overpacking is normal, because you just never know what could happen. We managed to fit everything in. It helped that a) I was the driver, meaning added space behind my seat because I'm short; and b) the kids' legs are short and don't reach the floor, meaning extra storage space below their legs.
Article content
There's a bit of extra space below the seats, just about wide and tall enough to fit a kid's tiny overnight bag (or possibly a couple extra bags of groceries, depending on what's in the bags). If you need a bit of extra space for smaller things, the wooden panel in front of the front passenger opens up a small storage area with the press of a button under the left vent; I love things like that. There's also the glove-box, a large centre storage, space below the climate controls, and even space above the touchscreen.
All packed and ready to go, we hopped on Highway 401, which was surprisingly empty. If you want a closer view of nothing in the truck bed, there's an option to zoom a bit closer. Still nothing.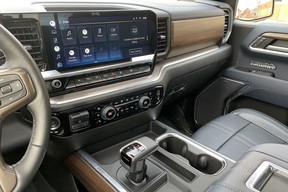 We made it to Whitby in a lot less time than I expected, but not before one kid got extremely nauseous. I opened the back window slightly so she would get some fresh air — that actually worked out really well! It was the perfect amount of fresh air without the wind blowing in your face, as it would be if any of the other windows were open.
Article content
When we finally reached our destination, we unloaded everything and it got me thinking: even if we had a tonneau cover, I don't think the bed would be the greatest option for our stuff. What's more, it would be horrible for groceries. I could be wrong, but I can't imagine jumping into the bed to get a watermelon that rolled toward the front of the truck. That said, I'm sure there are tonnes of options if you're loading something like groceries into your bed, something equivalent to a mesh bag or basket in an SUV, but I'm not quite sold on that idea yet.
The cargo volume is 1,781L. For reference, the average two-row SUV holds roughly half of that, but it's a lot more convenient. What's more important: convenience or added space? Usually, when I'm driving a three-row SUV that has minimal cargo space with all three rows of seats up, I'd pick more space. But in this case, I'm yearning for some simple convenience.
Article content
Unfortunately, that simplicity was far from Whitby. I bought a gingerbread train for the kids and grandparents to build — not simple or convenient. After struggling to get it to stay together, they gave up. They started eating it, but those things never taste good, so instead they ate a bunch of the candies meant to be the decorations. After a large mug of hot chocolate and sheer excitement for the following day, they were bouncing off the walls. But a sugar high usually ends in a complete knockout at some point. And then there was finally some silence in Whitby.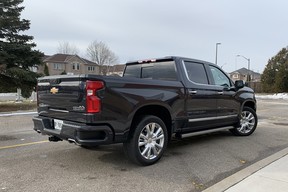 When we woke up on Sunday morning — December 25, Christmas! — the kids opened a ton of presents, and then we all had a big family breakfast that included "holiday beef" (better known as "pepperpot," to the Guyanese).
Article content
What we didn't take into account was that the presents coming back home with us were a lot larger than what we left with; toy manufacturers are very unique with their unusual sizes of boxing. It took some expert-level Tetris to pack everything into the pickup, especially without access to the bed of space right behind us.
Christmas with the Silverado High Country was a bit complicated, but successful nonetheless. It's not the smoothest ride for a family (especially if there's a chance of car sickness) but it does have adequate storage and space within the vehicle to fit three car seats and a bunch of toys. It's not the easiest to drive through a McDonald's or park at a busy shopping mall, but it's a pickup. It's really not meant for your average shopping haul.
Moral of the story: you should probably factor a tonneau cover into your pricing, because more than likely, you'll need one — especially if you're often towing along a family in the back seat, or planning an epic shopping trip.
link