Out of garage space? Find the best classic car storage solution so you don't have to get rid of that collector just yet.
Owning a classic car is a rewarding experience, but it's not without its difficulties. For one, there's maintenance and upkeep — a cost that can reach into the stratosphere for some collectors. Then there's the issue of storage, especially if you live somewhere with legitimate winter weather. Even if you don't get to experience the joys of a sub-zero winter, sometimes having a vehicle parked in your garage or driveway just isn't practical or convenient.
When you find yourself in this predicament, you have a few different options. You can just leave the car parked where it is and deal with any inconveniences (a life in denial). You can sell the car (a life of no fun). Or you can put the car in storage, allowing you to keep the car while getting it out of the way for a while.
The best option is clear, so we're here to help you find the best classic car storage solution for your needs.
How to Find the Best Classic Car Storage Facility
The good news is there are vehicle storage facilities in all 50 states, but not all car storage businesses are created equal. Depending on your needs, there are a few things to keep in mind as you shop around for collector car storage near you.
Different facilities offer different services, so it's important to review each offering to determine which one best meets your needs. You can hit Google for a list of closeby facilities, but from there it's up to you to find the best classic car storage for you — and your car.
In general, there are a few factors to consider.
Parking Options
The age, condition, and value of your car should help guide your decision on how it gets parked while in storage. Most facilities offer at least a few options that include outdoor parking, covered outdoor parking, indoor storage, and climate-controlled indoor storage.
If your car isn't a priceless work of art or you drive it frequently, you may want to opt for outdoor storage for easier access and a lower cost. For example, a classic Ferrari would be a great candidate for indoor storage, while a regularly used Corvette or classic Camaro might not. The lower price and convenience of outdoor storage makes this a good choice for more common classic cars whose price tag might not rival a Ferrari's.
Of course, if you do have a priceless work of art, you can opt for the top-of-the-line treatment with climate-controlled indoor parking to keep the temperature and humidity just right.
Security
Another factor you will want to consider is how the facility is monitored. If it's not by a human security guard, how robust is the security system?
Again, this decision is based on the value you place on your car. If you have an extremely valuable or rare car, you might want additional security measures. Other classic cars might be fine in a lot with a few security cameras.
Additional Services
Many storage facilities also offer member services similar to those at private country clubs.
The Portland Motor Club in Portland, Maine, has a conference room for members, along with a snack and beverage bar, tire pressure monitoring and adjustment, and access to special car club meetings.
Westside Collector Car Storage in Los Angeles, Calif., caters to clients across the country, offering transportation, tuning/maintenance, and cleaning services. Whether or not those services are of value to you will depend — again — on the type of car you have and the value you place on it.
Location
Unless you live in an industrial area, you're unlikely to find car storage right in your neighborhood, but choosing a storage facility that's too far out of the way can end up being a bigger pain than it's worth.
Even if the facility offers a valet or transportation service, you're not going to want to spend an hour to travel each way just to reach your car. Decide how far away you are willing to drive and consider how frequently you plan to visit the storage facility when determining an ideal location.
Cost
HomeAdvisor estimates that the costs to store a car can range between $45 and $450 per month. That huge price range is due to the fact that there are several options for vehicle storage, with the most elaborate and secure storage units costing the most.
Motor clubs and club-like facilities can cost thousands per year but provide much broader services than a simple storage unit. Real estate values for the location of the facility have a massive effect on costs as well.
Prepare Your Car for Storage
Before you can park your car anywhere for an extended period of time, you'll want to take a few steps to prepare it for hibernation.
Clean the Vehicle
Washing your car isn't just for showing off on the weekends — it can actually help keep it in good condition while in storage. Parking a dirty car for an extended period of time can lead to paint damage, especially if there are dried bird droppings or smashed bugs left on the paint. Take the time to thoroughly wash the exterior of your car to make sure there's nothing left on the paint that could cause damage in storage.
You should also vacuum the inside and remove any trash. There's nothing worse than opening the door of a car that has been sealed up for months with smelly stuff inside.
Mind the Fluids
Change the oil, check the brake fluid, and make sure to top off other fluids before storage. Used or dirty fluids sometimes contain dirt and debris that can damage the engine and other components if left in place for long periods of time.
This tip also applies to fuel. Fill the tank if you'll be leaving the vehicle in storage for 30 days or longer. Moisture can accumulate in the fuel tank of a car in storage, but the accumulation is less with a full fuel tank. If your car is being stored for extended periods of time — 6 months or more — you should make the small investment in a fuel stabilizer that can be poured right into the tank.
Charge the Battery
Depending on the facility, you may have access to a trickle charger or on-site charger, but if not, it's worth investing in one. Having someone start the car every couple of weeks will help keep the battery charged, but you'll rest easier knowing your classic car is parked happily on a battery tender.
If you have someone starting your car every couple of weeks for the battery and to circulate fluids, have that same person run the air-conditioner occasionally to help keep the climate system fresh.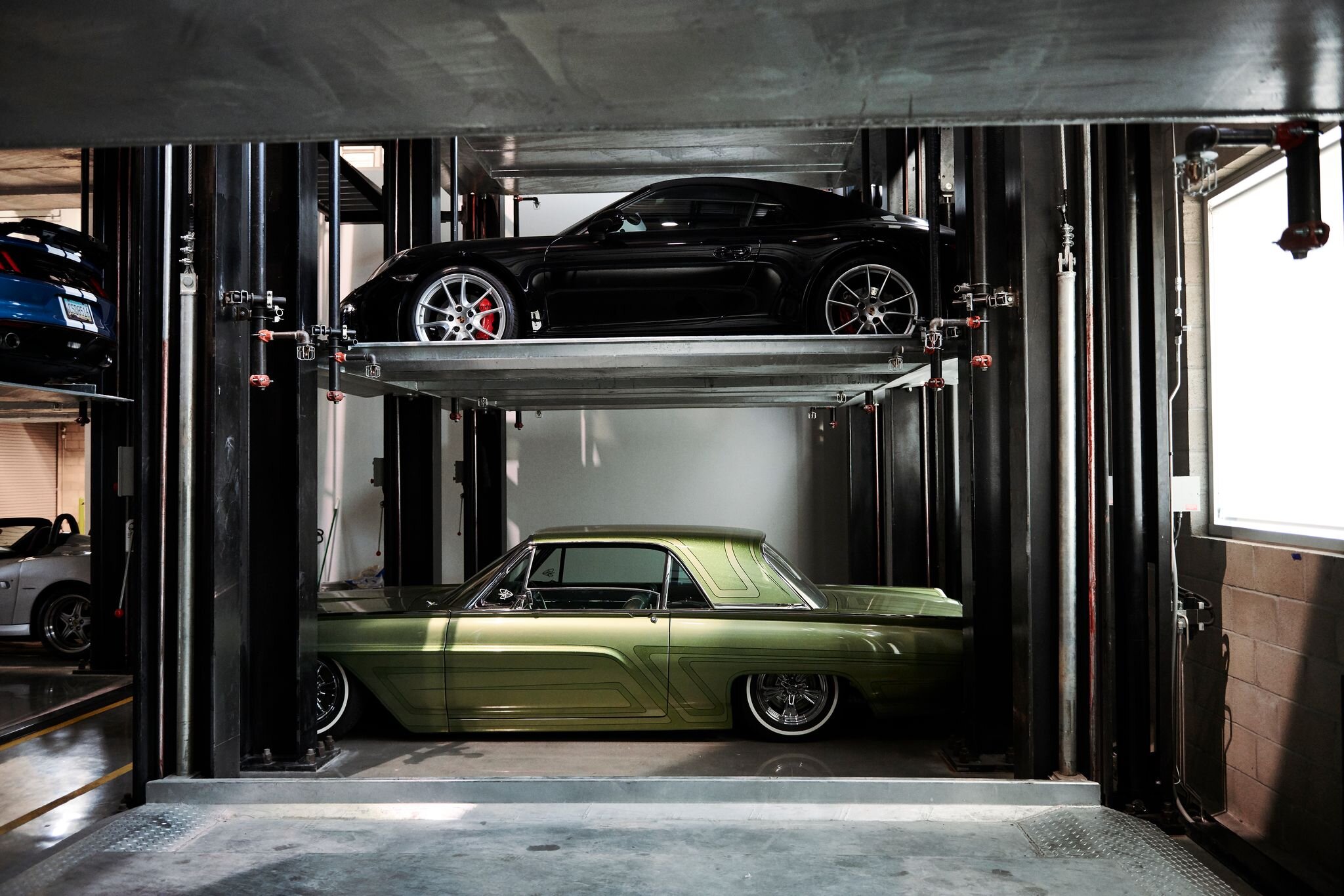 FAQ
Do I need car storage?
It can be tempting to move a vehicle into storage to keep it safe and clean when not in use, but it's also an expense that adds up over time. A better solution might be to keep the vehicle at home if you have the space, but that's a decision only you can make. The upside to car storage is that many facilities are climate-controlled and feature around-the-clock security — benefits even the nicest home garages usually don't have.
Another consideration is how important the vehicle is to you. If it's expensive, rare, and difficult to replace, the decision to store it should be a pretty easy one to make. On the other hand, people who collect oddball cars that aren't as valuable in the traditional sense of the word might have a harder time justifying the cost of storage.
What if my car gets damaged?
The storage facility should have insurance to cover any damage that occurs to the vehicle while it's in the garage. Check before you pony up the cash for a parking spot, though, because every facility and insurance policy is different. It's also important to note that putting your car in storage doesn't mean you should cancel your own insurance policy.
My car has special storage needs. What should I do?
If you own a customized car or one that rides very low, you should check with the facility to make sure that it's equipped to handle your particular vehicle. The same goes for large trucks or oversized cars. You may be required to pay extra for additional space or for special accommodations.
Call ahead before booking a storage space if you have any special needs you need to have addressed.

link