It was once brushed onto cars, but the products and processes of automotive painting have evolved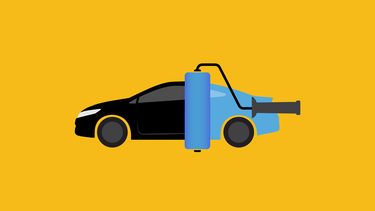 Article content
One thing's always been true at the dealership: a vehicle can have all the right options and the right price, but if it's the wrong colour, the customer will likely turn it down. And if there's a fender-bender, a customer's often less concerned about the quality of the metal repair, and more about the new paint precisely matching the old.
Article content
Still, paint is more than just a pleasing hue. It helps protect against corrosion, and like everything else automotive, it's undergone considerable improvement over the years.
Early automobiles were coated with oil-based paint, applied with a brush. In the 1920s, automakers switched to solvent-based nitrocellulose lacquer and spray guns. It was a vast improvement, but the paint often cracked as it aged, and bird droppings could stain it. A decade later, some automakers started using alkyd enamel, which dried faster and, until lacquer, didn't need to be polished to make it shine.
As the story goes, in 1928, Cadillac prepared cars for an auto show, but when DuPont was crushing pigments to make their paint, flakes of metal from faulty ball bearings accidentally got into the mix. There wasn't time for a repaint and this "metallic" finish went on display, where it wowed the crowds. It took a while for paint companies to consistently reproduce it, but it's a popular type of paint today.
Article content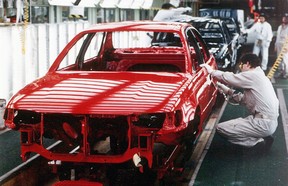 Acrylic paint, which needed to be baked to dry it and required several coats to build up the colour, appeared in the 1950s, while polyurethane enamel arrived in the 1970s. These finishes weren't all that durable – red, especially, could oxidize to the point that it would stain your hand if you leaned on a car on a hot day – and in the 1980s, automakers began using a two-stage system of a base coat to provide the colour, with a shiny, protective clear polymer coat on top. Environmental regulations created a major shift in the 1990s, and solvents were reduced in favour of a waterborne base coat.
That's the same basic system used today, although of course the coatings have improved, and your vehicle's surface is covered with various layers of rust protection, primer, colour coat and clear coat. Most start with a layer of zinc, applied to the metal before the car is even built, to resist corrosion. Once the body is finished, it's thoroughly cleaned to remove any oil or grease, and then receives more layers of anti-corrosion coatings.
Article content
Next is a layer of primer, which serves a few purposes. It protects the coatings under it, some of which can be affected by sunlight. It fills in any tiny imperfections in the surface and helps the paint to adhere to the metal. It's also a protective barrier if a scratch goes past the top layers and deep into the finish.
These are the best ways to protect your car's paint
The next layer is the paint base coat, which contains the pigments that give it its colour. Some pigments are more costly, which is why you might pay extra for specific hues on some new vehicles. The paint layer can also contain small flecks of mica, aluminum, or synthetic material to create that originally-an-error metallic finish, or the subtle shimmer of "pearl" paint. The paint layer is then topped with a layer of clear coat, which helps protect it from small chips and scratches, and gives the car a glossy finish.
Article content
Some people prefer their car with a matte finish, and a few automakers offer some models with it right from the factory. Matte paint also has a clear coat over the pigment layer, but it's a type that dries to a rough finish rather than a glossy one. This type of paint requires specific cleaning and protective products, since regular car wax will ruin its look.
In addition to environmental concerns, automakers are always looking at ways to speed up the paint process and save money. The most recent innovations have been coatings that take fewer steps, such as primer, paint and clear coat that can be baked in one or two layers, rather than cured individually before the next is applied. This saves on resources, since a typical auto plant devotes more than half of all its energy use into the paint shop, and also on floor space, since the vehicles don't have to be routed through multiple steps.
Article content
Innovation isn't restricted to the original finish, and body shop techniques are also changing to handle the advances. One of the biggest headaches after collision repair is matching the repaired panel to the rest of the vehicle. Older finishes may have faded a bit, but new cars can present issues too. Even with computerized mixing and quality control, vehicles can have slight variances from the select colour, especially if it's used in more than one auto plant and there can be different suppliers, painting equipment and curing ovens. Up-to-date repair shops use new technologies such as spectrophotometers, a computerized camera that looks at the finish from several angles to "read" the colour. Just as cars have improved, paint has come a long way from those first factory workers slapping it on with a brush.
link