Dublin, Nov. 14, 2023 (GLOBE NEWSWIRE) — The "Global Automotive Films Market by Films Type (Automotive Wrap Films, Automotive Window Films, Paint Protection Films), Application (Interior, Exterior), Vehicle Type (Passenger Vehicles, Commercial Vehicles), and Region – Forecast to 2028" report has been added to ResearchAndMarkets.com's offering.
The Automotive films market is projected to reach USD 9.7 billion by 2028, at a CAGR of 5.7% from USD 7.4 billion in 2023. The combination of growing market trends, increasing application, consumer demand from emerging economies, and advancements in automotive films technology are driving the adoption and use of automotive films.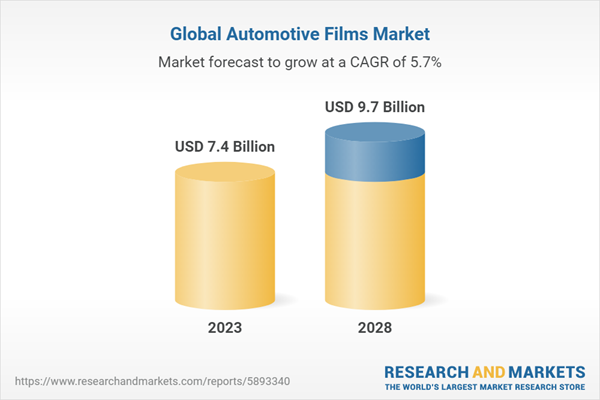 Paint protection films accounted for the fastest growth during the forecast period, in terms of value
Paint protection films are a type of exterior automotive film designed to protect a vehicle's paint from various forms of damage, including stone chips, scratches, tree sap, bird droppings, and UV rays. These films are easy to maintain and clean without the need for washing. It enhances the gloss and finish of a vehicle's paint, making it look newer and more vibrant. Paint protection films have self-healing properties to repair minor scratches and swirl marks when exposed to heat or sunlight.
Based on vehicle type, passenger vehicles are expected to be the largest market during the forecast period, in terms of value
The passenger vehicles segment is the largest vehicle type to lead the market during the forecast period. In passenger vehicles, automotive films are installed on vulnerable areas such as hoods, side mirrors, rocker panels, front bumpers, door handle cavities, rear fender panels, and door edges to protect the vehicle from scratches, stains, and elements that may damage the appearance of vehicles.
Based on region, North America is the largest market for automotive films in 2022, in terms of value
Based on region, North America is a key market to produce automotive films. The rising standard of living in the region is driving the demand for automotive films. The increasing demand for passenger and commercial vehicles, diverse climatic conditions, safety concerns, regulatory factors, consumer preferences, advanced technology, and industry infrastructure are some of the factors that will drive the automotive films market in this region.
The report provides insights on the following pointers:
Analysis of key drivers (technological advancements, expanding application of automotive films, increasing market trends), restraints (environmental concerns & regulations, health & safety concerns, limited application range), opportunities (growing demand from emerging economies, demand in high performance automotive films, increasing demand from automotive industry) and challenges (competing substitute materials, economic uncertainty).
Market Penetration: Comprehensive information on the automotive films market offered by top players in the global automotive films market.
Product Development/Innovation: Detailed insights on upcoming technologies, research & development activities, and new product launches in the automotive films market.
Market Development: Comprehensive information about lucrative emerging markets – the report analyzes the markets for automotive films market across regions.
Market Diversification: Exhaustive information about new products, untapped regions, and recent developments in the global automotive films market
Competitive Assessment: In-depth assessment of market shares, strategies, products, and manufacturing capabilities of leading players in the automotive films market
Companies Mentioned
3M
Ads Window Films Ltd.
All Pro Window Films, Inc.
Arlon Graphics LLC
Avery Dennison
Eastman Chemical Company
Ergis S.A.
Filmtack Pte. Ltd.
Foliatec Bohm GmbH & Co. Vertriebs-Kg
Garware Polyester Ltd.
Geoshield
Hexis S.A.
Johnson Window Films
Kay Premium Marking Films
Lintec Corporation
Maxpro Window Films
Nexfil Co., Ltd.
Prestige Film Technologies
Profilm
Renolit Group
Saint-Gobain
Ssa Europe Ges.M.B.H.
Toray Industries, Inc.
Xpel, Inc.
Zeo Films
For more information about this report visit https://www.researchandmarkets.com/r/7erec5
About ResearchAndMarkets.com
ResearchAndMarkets.com is the world's leading source for international market research reports and market data. We provide you with the latest data on international and regional markets, key industries, the top companies, new products and the latest trends.

link