Backdrop Is Living in the Fast Lane With These New Porsche-Inspired Paint Colors
When it comes to celebrating a 75th wedding anniversary, traditional etiquette says that you should treat your spouse to diamonds. But honoring the 75th anniversary of the world's most coveted sports car brand requires a different sort of gift—and the iconoclasts at Backdrop have decided only a limited-edition palette of paint colors will do. 
To celebrate Porsche's big 75th, Backdrop is launching a cool new collaboration that brings four inspiring colors from Porsche history into your home.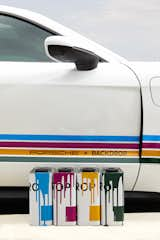 A car company and a paint brand might not seem like obvious partners, but Porsche has always been known for its unwavering commitment to design and style; individualization is at the heart of everything the brand does (as anyone who's ever dreamed about a custom-built 911 and pored over the dozens of shades available knows). And Backdrop, created by husband-and-wife duo Natalie and Caleb Ebel, has long been a favorite of interior designers, beloved for both its curated color palettes and Green Wise-certified, low-VOC offerings.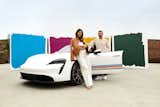 So really this unique collaboration between the iconic automaker and premium paint producer is a truly perfect pairing. "Everything we do at Backdrop centers around our love of color. Naturally, we jumped at the chance to work with an iconic brand like Porsche, which has always been synonymous with its bold, statement-making color palette," says Natalie Ebel, co-founder of Backdrop.
"Individualization is at the core of Porsche. Whether it's a custom-built Taycan or your home office, we want to inspire all to dream in full color," adds Ayesha Coker, vice president of marketing of Porsche Cars North America.
There's Irish Green, a luxurious hunter green, first seen on the gleaming body of the 356C sports car back in 1964.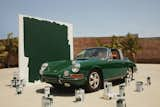 Or maybe Speed Yellow is more your speed—punchy, high-octane, and pure fun, it's a perfectly flashy finish most associated with the 1991 Porsche 911.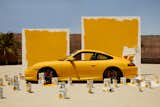 The deep, magenta-red Ruby Star is a true head-turner—another cult-favorite color that adorned 1991's Porsche 911, 928, and 924 models.
Rounding out Porsche x Backdrop's eye-catching palette is the electric Riviera Blue, a shade developed in 1994 and frequently seen on the Porsche 911, 928, and 968 models.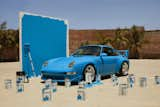 These colors are bold, it's true. They're audacious. They're not for the faint of heart. But even the Sunday drivers among us can put these striking colors to good use. Steer into a statement wall in fiery Ruby Star, or a trim coated in the beautifully brash Riviera Blue.
However you bring these limited-edition hues into your world, it's undeniable: This is a collection that drives great design.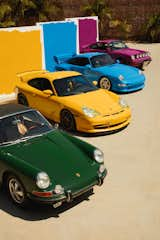 Each of the four, limited-edition Porsche x Backdrop paints are available in custom-designed, co-branded collectible paint cans. Full gallons are $75.
link