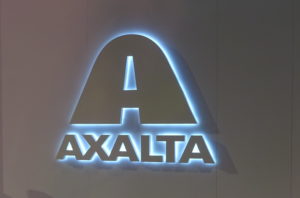 Axalta says new automated mixing machine will save shops time, money
By Michelle Thompson
on
Announcements

Axalta Coating Systems has introduced a new fully-automated, hands-free mixing machine that it says will save the automotive refinish industry both money and time.
Its three-step system (scan, find, mix), called Axalta Irus Mix, delivers "highly accurate" color while eliminating the need for manual mixing, Axalta said.
A company spokeswoman told Repairer Driven News that Axalta estimates body shops would save more than 60% in labor time by using the machine, compared to manual mixing and maintenance.
Axalta developed the machine in partnership with Santint, a leading global equipment manufacturer.
Santint has previously introduced a number of automated coating systems for dispensing and mixing paints. During last year's SEMA show, it introduced its automatic car refinish paint dispenser and automatic tint dispenser to attendees.
Chris Garibay, Santint's director of sales and operations at Santint, said its project with Axalta was aimed at addressing the bottleneck in teh paint mixing process.
"Their vision, much like our own, is to bring innovation to the automotive paint industry to increase accuracy, increase output, automate inefficiencies and to reduce waste," Garibay told RDN. "Santint offers other automotive dispensers that cater to the small mom and pop shops, to large institutions with an assembly-line painting processes, to distributors with hub and spoke business models."
He noted that there have been a few other attempts at introducing automated mixing into collision and repair shops, as well as paint distributors. With PPG's Moonwalk and now Axalta's Irus Mix, he said it's becoming clear that the automotive refinish industry is embracing automated paint dispensing.
"The automotive paint manufacturers are stepping up to support businesses facing pressures to increase output, reduce their mistints and address labor concerns," Garibay said. "With automated mixing, your painter can keep painting. Coupled with advances in spectrophotometers and automated paint dispensers, we've seen near zero rework across many businesses.
"This is an incredible time for the automotive paint industry. Our products allow the industry to reimagine how it currently conducts business. It's no longer possible to conduct business in the way we've always done it."
Axalta said its machine, which will become available in Europe in June, and that other regions will "soon follow."
According to Axalta, the tool will require less labor from shops, reduce waste and offer a more sustainable option than traditional mixers.
"We constantly look for ways to help our customers to do business better, enabling them to work as efficiently as possible and to maximize their profitability," said Troy Weaver, senior vice president of global refinish.
"When we launched our digital end-to-end color management process, Axalta Irus, we knew what the future held for the industry. Today, we are delivering technology so customers can automate and mix color like never before."
Images
(John Huetter/Repairer Driven News)
Share This:
Related

link