Mazda has introduced Artisan Red Premium, the fourth in its line of special colors, and although it presents some special considerations for painters, it should be within the ability of body shops to replicate.
Like Soul Crystal Red, the first color previously developed with Mazda's Takuminuri painting technology, Artisan Red Premium is comprised of three layers: a clear layer, translucent paint layer, and a reflective/absorptive layer.
Mazda said that the color "combines an outstanding aesthetic appearance with a reduced environmental footprint."
The translucent paint layer uses a high-chroma pigment that's also used for Soul Crystal Red. For the reflective/absorptive layer, Mazda applied a technology that it said "more smoothly aligns aluminum flakes at regular intervals," the same approach taken with the third Takuminuri color, Rhodium White Premium. Finally, the same improved jet black pigment used in Machine Gray, the second Takuminuri color, was used in Artisan Red Premium.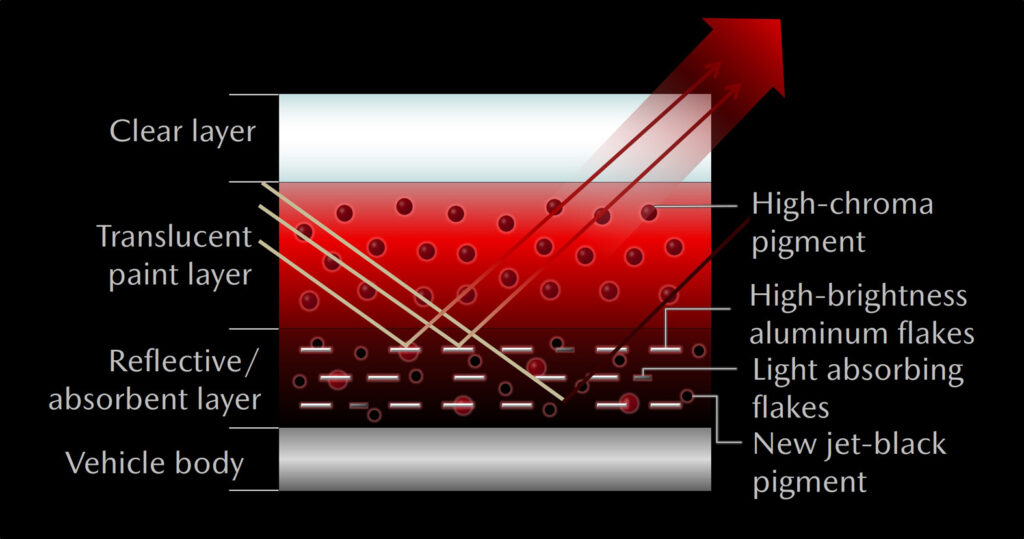 "This combination of technologies developed over a period of 10 years conveys brightness in highlights produced by strong reflection and the richness of shades created as light is soundly absorbed so as to achieve a balance between transparency and a mature profoundness," the OEM said.
The new color will be introduced with the all-new 2024 CX-90, set to make its world debut in January 2023. Mazda said the color will be offered as a premium highlight for vehicles in its current lineups as well as forthcoming releases in its Large Product group, its name for its four mid-size crossover SUVs to be launched by the end of 2023.
"Mazda believes color to be a crucial element of what gives form to a vehicle; thus, we are focusing our efforts on developing colors that accentuate a dynamic and delicate expression in line with the Kodo – Soul of Motion – design theme," the OEM said. "Artisan Red Premium, the fourth Takuminuri color, was developed to extend the range of how the world views red, one of the colors symbolizing Mazda, as a culmination of the Takuminuri evolution to mark the 10th year since the first color Soul Red Premium was released."
It said the color "conveys the connotation of a red color created by skilled artisans," and "manifests a mature outlook that is more refined and sophisticated than previous special colors." The word Takuminuri translates as "artisan coloring."
In spite of its complexity, Artisan Red Premium is a color that body shops should be able to replicate, Daniel Benton, global product director of color marketing with Axalta Coating Systems, told Repairer Driven News.
He said no special tools will be required, although technicians might have to apply multiple translucent layers to recreate the factory appearance. "To accurately replicate for repair multiple layers are sometimes required, and Axalta has introduced some new pigments to our refinish technologies to provide high quality matches," he said.
He said the color can be blended successfully.
Bilge Carritte, Global Color Science and Operations Director, Automotive Refinish, PPG, told RDN that based on its initial review, PPG does not foresee any issues on matching the color.
"We initiated some color work for this color already based on some panels received from Japan in various paint lines," Carritte said. "The color match and specific application details will be finalized once the team receives the official standard which we have not received yet."
Mazda's use of innovative colors was mentioned by Benton during the July 28 CIECA technical webinar, "New Technologies in Paint & Coatings," as an example of an OEM using color in an effort to gain market share.
"Aesthetics are driving it to some degree," he said. "We've seen some really remarkable things recently from manufacturers, like Mazda in particular, to pick on them. They've introduced some innovative colors recently that consumers like, so there they see they can actually move market share a little bit with by using color."
"They're developing new application innovations that allow very thin layers and you know, it's creating some new color capability," Benton said. "There's also some things going on around high chroma and aspersion technologies.
"The need to reach further into color space to drive market share is also driving some of these innovations, which is kind of exciting, right? You know, often innovations are related to …environmental and cost issues, but it's great when we innovate to do something new and you know, really impact the market," he said.
More information
Artisan Red Premium: New Special Body Color Developed by Mazda
https://newsroom.mazda.com/en/publicity/release/2022/202211/221115a.html
New paint technologies create added considerations for repairers, panel agrees
Images
Featured image provided by Mazda.
A view of the Artisan Red Premium paint layer structure. (Provided by Mazda)
Share This:
Related

link