2022 TechForce supply & demand report: More than 100K collision techs needed over next four years
More than 113,000 entry-level collision technicians will be needed between now and 2026, according to TechForce Foundation's 2022 Transportation Technician Supply & Demand Report.
During one of three OEM Collision Repair Technology Summit sessions held by the Society of Collision Repair Specialists (SCRS) on Thursday, TechForce CEO Jennifer Maher said 232,000 techs were needed in 2021 across automotive, diesel, and collision but schools were only graduating 42,000.
"When we look at collision only, it's 35,000 techs," she said. "New entrants are needed each year just to keep up with demand but schools are only graduating 4,500. So, I mean, the pond is dry. …it has to be a collaboration between industry nonprofits, education, kind of coming together and saying, we need to invest in this."
It comes down to needing to help students explore the automotive industry, Maher added. She told Repairer Driven News that shops can partner with organizations, like TechForce, that are already connected with students. Schools need speakers, businesses at career fairs, shop tours, and apprenticeships. "But at the same time, you're busy. You're doing your shop so just call a nonprofit and say you're willing to volunteer; you want to help. …This is a cause and we think shops should invest in it."
Or shops can donate $85 a month that TechForce will put toward tuition scholarships and living expense grants for students.
"We need the scholarships to get them through. Do you know the number one life happens emergency grant request I get for why a kid needs funding to stay in school? It's a car repair and a flat. So, this is where the kid wants to come to work for the industry but they're trying to get through school and now they have to choose to pay their rent or to pay for the new tires so they can get to school and work. This is crazy."
Over the past six years, there was a drop in collision technician employment of 1,200, or just under 1%, according to the TechForce study.
"Although this one-year drop is not significant in itself, it is concerning in that it is the sixth year of continuous decreases in the collision sector," wrote Greg Suttle, the author of the study and TechForce director emeritus of National Initiatives. He spent more than 40 years working in the automotive repair industry. That equates to a drop from 160,400 in 2016 to 152,500 last year.
Demand for collision techs this year includes:
New Positions – 10,348
Replacement Positions – 15,471
Unfilled positions from 2021 carried over to 2022 – 9,420
That adds up to a new entrant demand of 35,239 compared to 18,496 projected in 2021. The U.S. Bureau of Labor Statistics replacement rate for collision technicians has risen slightly from 9.1% in 2020 to 9.5% in 2021.
"In our 2021 report, for the first time, we addressed the subject of the graying of the transportation technician workforce. This was in response to widely-held beliefs in the industry that transportation technicians are an older-than-average, aging workforce with a higher percentage of individuals retiring than other job roles in the workforce. Those beliefs have led to a concern that this has compounded the technician shortage issue. In that report, it was established that this is in fact not true. For 2022 there is no change in the data. When looking at the automotive, diesel, collision and aviation fields, technicians are retiring at a lower rate than in the overall U.S. workforce."
Specifically for collision, the rate is 3.9% compared to 4.8% for the entire U.S. labor force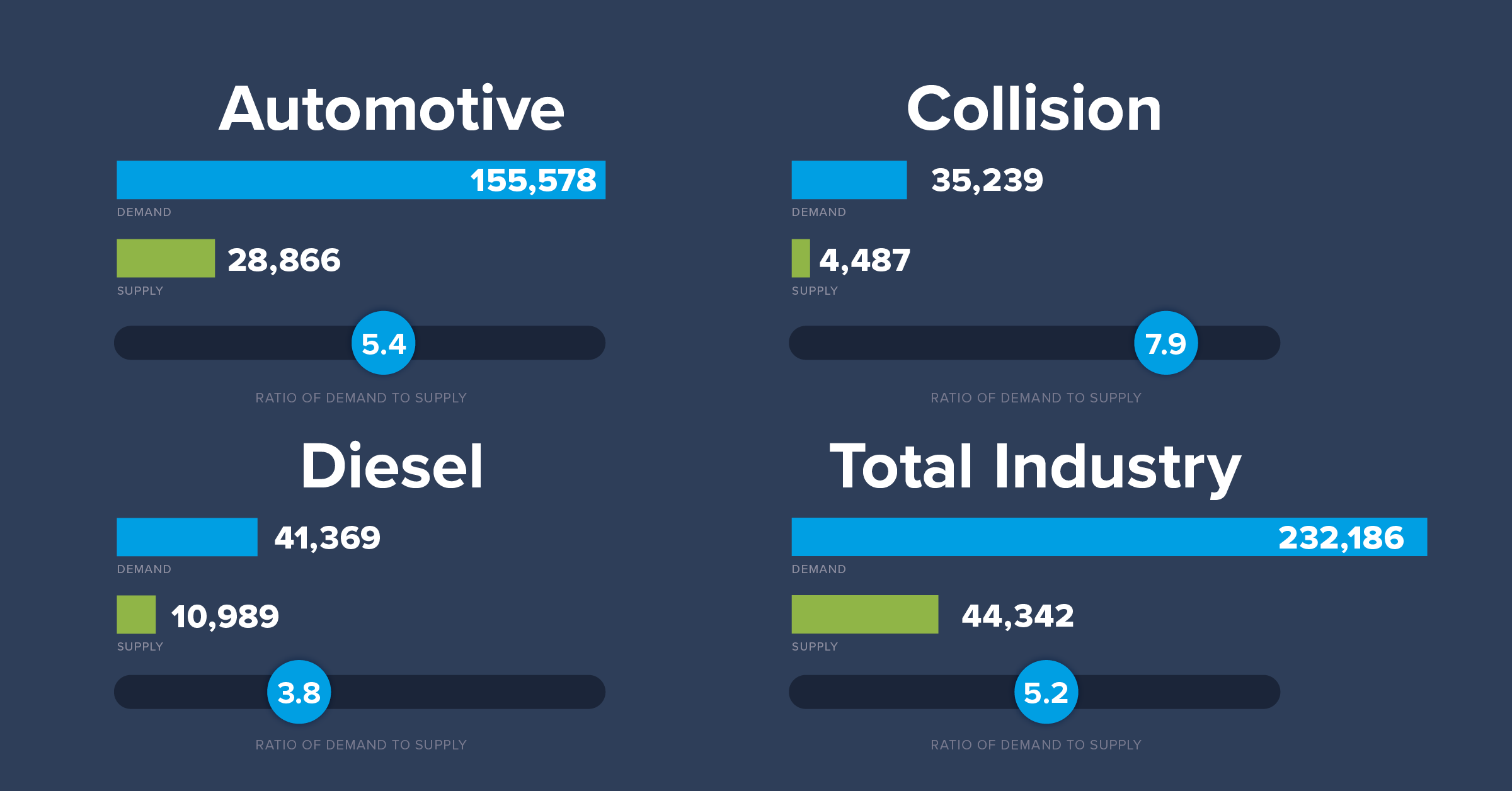 As for supply, automotive and collision graduations have been dropping year-over-year; for collision since 2012. Ten years ago, 7,441 collision repair technicians graduated training programs and by 2021 had dropped 40% to 4,487.
This year's report found that the total number of employed technicians has increased in the automotive and diesel sectors. However, that's the only good news, Suttle wrote.
"By far, the area of most concern is the prolonged drop in the number of students completing post-secondary programs for technician roles. …With the increased adoption of EV vehicles, autonomous vehicles and a myriad of other advanced technologies, hiring new entrant technicians with little or no training as the norm is a risky path to go down. Therefore, one of the most important strategies that can be put into place is widespread, ongoing industry engagement with students beginning in middle school.
"…A long-term focus on addressing the underlying causes of why young men and women are not interested in the trade is what is needed. If substantial
efforts are not made to build the beginning of the funnel, eventually nothing will be coming out the other end."
Mike Pressendo, TechForce chief marketing and strategy officer, told RDN shops need to help change the perception of the repair technician role and the automotive repair industry — that it's high-tech work, not a job that will get your hands dirty and shop floors covered in oil.
"Unfortunately, collision [repair industry] is the most grim," Pressendo said. "…The data shows that collision is the lowest paying of their options. I know it's impacted by the insurance agency because they're paying for most of the repairs so that's a conundrum as long as the insurance companies are going to keep what you make from those types of repairs, which translates to what you're going to make for your people. That's something TechForce can't solve but universally… create a work environment where people are going to want to come to work. Don't haze young people. Make it a clean place. …They want opportunities for training… a career progression, a career path."
Shops can get involved by hosting hands-on events to let students mix paint and work with technicians, which gets high school students excited about the industry, he said. Any shops that don't know how to connect with schools can reach out to TechForce work to do so.
Put simply, TechForce says the industry as a whole should "inspire, support, and connect."
To download the study findings, complete a three-question request form at techforce.org/supply-demand-report/.
Editor's note: There will be more coverage from RDN on the OEM Collision Repair Technology Summit sessions in forthcoming articles.
Images
Featured image credit: didesign021/iStock
Graphic provided by TechForce Foundation
Share This:
Related

link